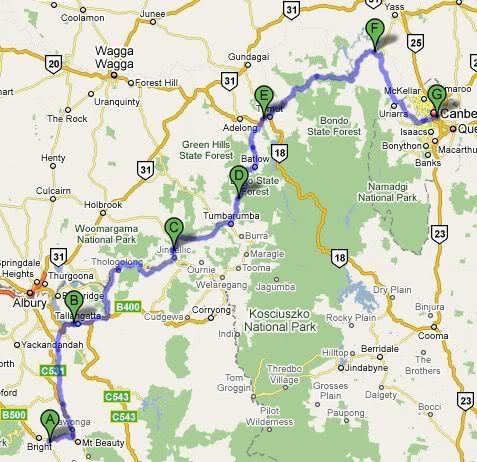 Again, I was blessed with beautiful mid 20 weather, though it was cool for my early start thanks to fueling up the arvo before, and I was out of Bright at 7:30 am. On my way out of town I was greeted by a kangaroo watching me ride by on the street in Bright. I was so excited to see a *live* Kangaroo that I forgot to take a picture!
The road to Mount Beauty is a beauty.
It is winding, good surface and a couple of lookouts that show beautiful views of the surrounding country.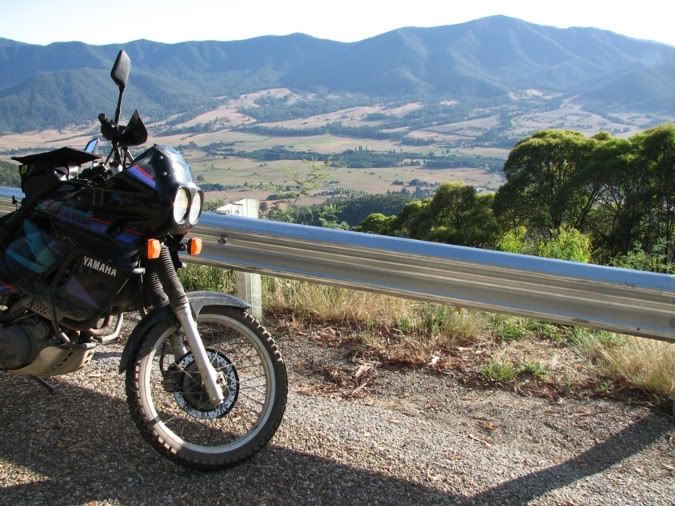 It is everything you could ask for in a great road, only I wanted it to be LONGER!
It goes for about 30km and as I wound my way down to the bottom of the mountain, turned left and headed towards Tallangatta.
Instead of taking the highway I took the turn off to Red Bank Rd as an alternative (for those with the top 100 rides atlas, it is actually all sealed, unlike what the atlas indicates, bastards and their bitumen.) This was a beautiful section of country rd, with fast straights and nice fast sweepers and a few short sections of tight twisties and it was a great alternative to sitting on the highway and it takes a more direct way to Tallangatta.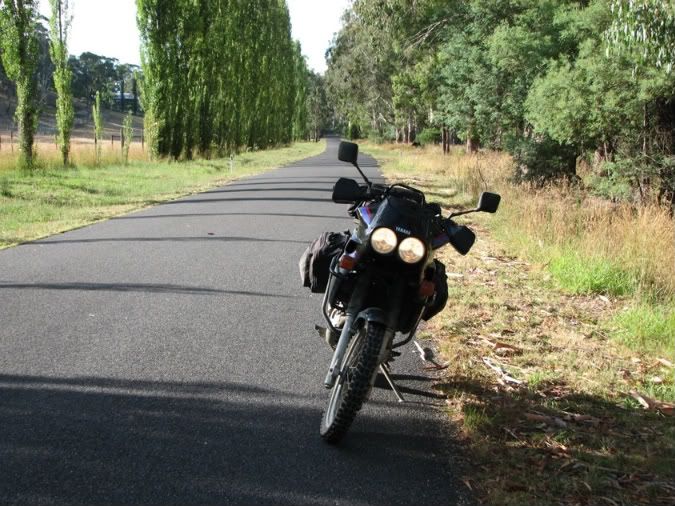 I stopped at Tallangatta for breakfast, having a bacon & egg roll and a local choccie milk and then off again and not far out of town had a brief meeting with the local cops (who pulled me over, disco lights and all, but it was just for a license check and breath test, he was prolly sus cause I am prolly the only motorcycle to ever travel the Murray Valley Highway and not speed hehe
I took the turnoff to Granya and was glad to see that I had left other people behind on the highway and enjoyed having the road to myself again and wound my way around the mountain again on beautiful twisty rds that just make the time past so fast!
I then rode along the Murray River Rd that skirts along the Murray River.
Wasn't much river to speak of, but the scenery was beautiful regardless.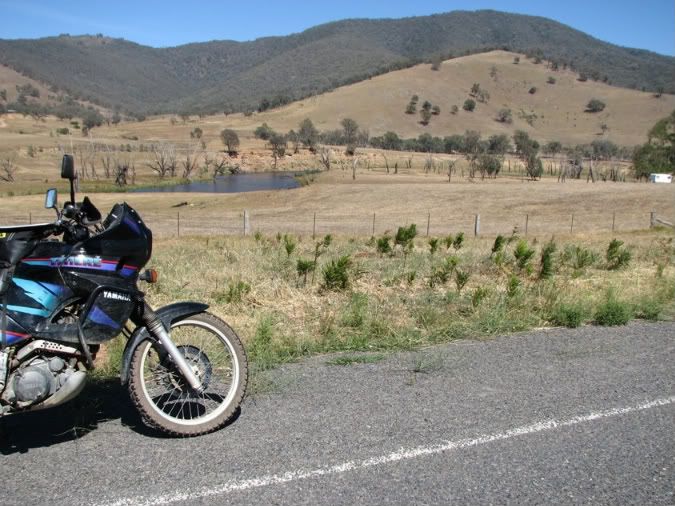 I turned and crossed the border at Jingellic and then took the Jingellic-Tumbarumba Rd to Tumbarumba. This was a great road that was again fast, with nice sweeping corners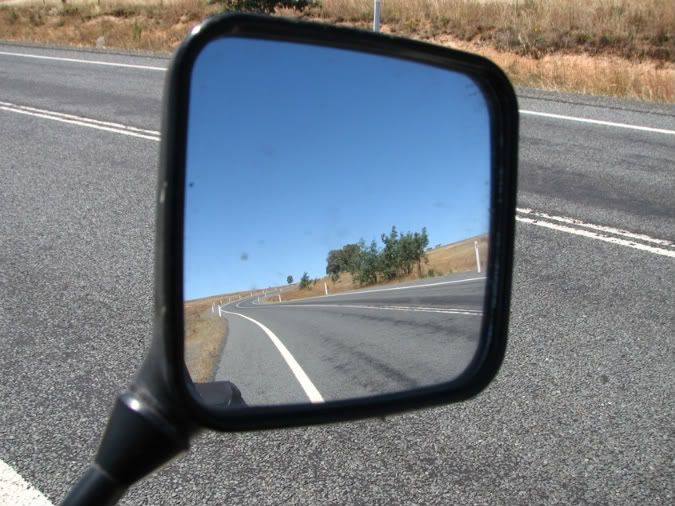 that you could see criss cross in front of you before you got to them
Stopped at Tumbarumba for fuel and decided to press on to either Batlow or Tumut for lunch as I was undecided if I would take highway from Tumut or put on my big girl panties and take the dirt rd again.
Beautiful vistas of rolling hills covered in pine trees outside Batlow stood before me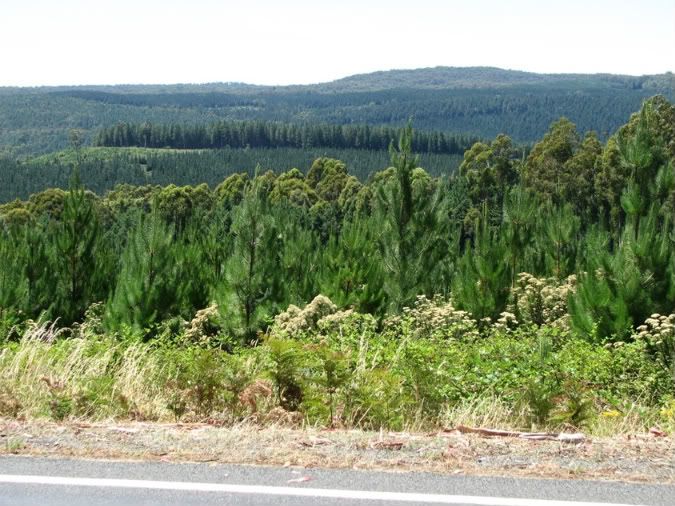 and stopped off at Sugar Pine Walk. This is where they have cut down a line of pine trees and you can walk up between these amazing 250ft pine trees that would be amazingly beautiful in winter!
The pine trees made me feel insignificant, but in a nice way that made me appreciate being alive and what I have.
I searched Batlow for an apple pie, to no avail and amazingly despite the myriad of fruit on offer at the roadside, do you think you could buy a freakin apple? No!
Peeved at Batlow, I continued to Tumut where I stopped for lunch and had a think about whether I again wanted to try the only rd that had truely worried me, esp with the chance of not having a rear brake and it being afternoon and the rd being where they apparently cross breed horses and wombats!
I decided I wouldn't let this rd get me, and that if I didn't do it again it would have beat me and Icouldn't let that happen and that I would prolly avoid it in the future because of it. I also REALLY wanted to do Mountain Creek Rd again, cause I really enjoyed it, so I sucked it up and took the rd and it wasn't as bad as I remembered (plus it helped that I knew the worse part only went for about15km out of Wee Jasper) though in the rougher stuff my rear brake decided to die again as I was winding down a mountain with tight twisties. I slowed down to a crawl and used the clutch and throttle to keep the speed right down.
As I was about 6km out of Wee Jasper, I caught up to a truck that was wetting the road, so now I had no rear brake on a wet rough windy rd ! I suddenly became overwhelmed that I had taken a wrong turn (dunno how, I hadn't turned!) but the scenery wasn't familiar. There was another guy there on a massive piece of machinery (I think working on the road, though I dunno how, there certainly was no work done on that rd.) I stopped and asked him if I was on the right track and he tried to open his door to answer my question but was limited by his controls, so then he tried to move the machinery so that he could open the door and given he was already half off the rd to let the truck wetting the rd though, he then was spinning his wheels and the truck tilted to the side and I was horribly embarrassed that I almost caused this poor guy to stack the machine over because I had to ask if I was on the right track!
The rd was really narrow, just as it had been heading out and I thought that I didn't really remember this part, and wondered WTF would happen if two vehicles other than bikes crossed paths. As I entered into Wee Jasper, I came in the opposite side and it dawned on me that that part of the road was divided! So the WHOLE FREAKING time in and out of Wee Jasper, I had been paranoid I was going to meet a logging truck head on, but the rd was on fucking way, a SIGN MIGHT HAVE BEEN NICE! Anyway, better to assume it isn't one way, than assume it is and end uplogging truck roadkill! Although, there were convex mirrors on some of the corners, do any of the locals know if its one way or two???
Enjoyed the nice sweeping ride back into Canberra via Mountain Creek Rd and Uriarra Crossing.
More pics from this day
The next day I just took the Hume back from Canberra to Syd cause I slept in and figured I can do that ride another time 